KINTU
Once upon a time, there lived a great man called Kintu, he used to move with his prize cow from Northern Africa to a land named Uganda. He lived in this place peacefully for very many years and he built a grass hut.
Gulu was the king of Heaven. One day the sons and daughter of Gulu decided to visit earth. Kintu and Nambi met and fell in love at first sight. Nambi told his brothers of her intentions to get married to Kintu. The brothers did not like idea, since they thought maybe he had bewitched her. They feared he was a magician or a sorcerer. One of the brother said he might be an animal in disguise, Nambi assured them that her beloved Kintu was not animal because animals do not build huts like he had done.
Nambi went to the sky kingdom to ask her father Gulu for permission to get married to Kintu. Gulu listened to Nambi, but the brothers kept on telling the father to say no. Each had their reasons; the eldest thought he was an animal while the other claimed Kintu did not eat real food but only milk from his cow. Gulu told his children he will think about it.
The brothers decide to return back to earth and still his cow. So they carried take the cow to heaven and see if Kintu would starve to death. When he was back and saw the cow gone, he began gathering leaves and fruits to eat. These made him stronger whenever he ate them.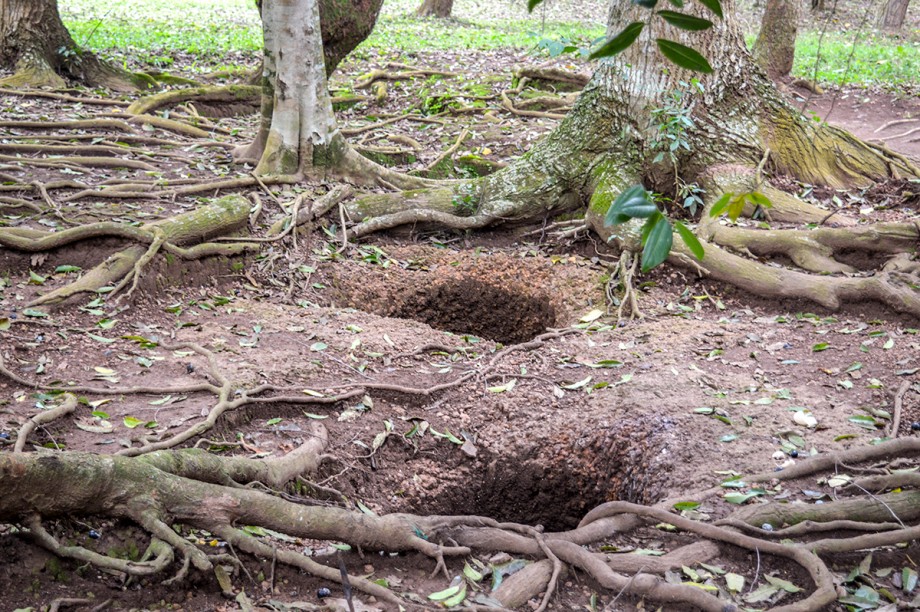 One day when Nambi was moving in her father's fields, she saw Kintus cow. Out of fear she thought her beloved had died of hunger since he used to drink milk from the cow. She decided to go back to earth to find out what had happened to him. Nambi found Kintu very healthy eating fruits.
Nambi told Kintu about his cow and asked him to go back to the sky with her in order to steal it and return to earth together. Kintu fell in love with her and agreed to go back to the heaven with her.
Upon reaching the sky, Kintu could not believe his eyes. He saw how beautiful the sky sky was and people there lived in beautiful golden huts of grass. They had very many animals, sheep, cows and goats among others in the beautiful green and blue fields. They sat down to talk about their future.
When the brothers saw Kintu, they ran to tell their father how she had brought the creature from. Gulu decided to give Kintu tests in order to see how great he was. He told Kintu to come to the Palace.
The first test was to eat all the food that the servants had prepared for him. He sat down ate and drank but could not finish all of it and dozens of baskets remained. Suddenly a great hole opened on the floor of the palace, hes began to throw all the remaing food there. He called the servants to come and take the empty baskets, the brothers seqarched everywhere but did not find any food.
This did not satisfy Gulu, and he told Kintu to go and get kindling from rocks since plain wood was not for him anymore. He was handed a cooper ax for the job. Kintu did not know what to do because if he striked the rock with the ax it would break. When he bent down slowly he saw tinny cracks running through each other, so he used his fingers and lifted off pieces of rocks and took them to Glulu.
This did not satisfy Gulu, he then ordered Kintu to go and collect due in a pot. He went out at night on a dry grass and wondered what to do next. He slept off and in the morning he could not believe what he saw. All the grass was filled with dew and the pot to the brim. He took to the pot to Gulu and told him how he loved his daughter and also give his consent to marry her.
Gulu told Kintu there is one more test which was to look for his cow among the royal herd. If he found his Cow, Gulu would bless their marriage. Kintu did not know what to do but suddenly a bee setteled on his shoulder and whispered to him, "The cow is settle on tomorrow will be your cow."
The next morning he set off to the royal field in search for his cow, he saw the bee moving around. Kintu kept a close eye on the bee while pretending to look for his cow. The same bee settled upon the horn of the cow and he called out, "that is my cow." Gulu was amazed and he called him "the great Kintu" and agreed to marry off his daughter to him.
Kintu and Nambi married. Gulu gave them a sheep, goat, chicken, a plantation tree and seeds for every edible plant and commended them to leave in a hurry before Walumbe (Nambi's brother) returned since he would want to travel with them.
Half way their journey, Nambi remembered that she had forgotten the grain for the chicken and decide to go back for it. As she was collecting grains from the fields of the sky her father saw her, asked why she had returned and scolded her.
Nambi was leaving, Walumbe saw her and insisted that he was coming.  They travelled together to earth. She planted in her garden seeds of plantain trees. Kintu and Nambi gave birth to many children and they leaved happily.
For many years Walumbe did not bother them. Walumbe is the meaning of death and cannot be avoided. Until one day he began to take one child after another. Walumbe always takes people away no matter how you try to avoid him. This did not stop the family of Kintu and Nambi to grow and prosper because the descendants still live up to this date.
Kintu returned to the sky to report Walumbe to his father. Gulu told Kayikuzi to go capture Walumbe and bring him back to heaven. Kayikuzi fought with Walumbe in the efforts of fulfilling Gulu's wish. During the fight Walumbe was able to slip through a hole in the ground and dug deeper. Kayikuzi decided go back to heaven leaving him behind. Walumbe is responsible for all the misery and suffering of Kintu's children until today. The holes Walumbe dug are still there in Buganda. Visit Ganyana Safaris for this amazing trip and History telling.