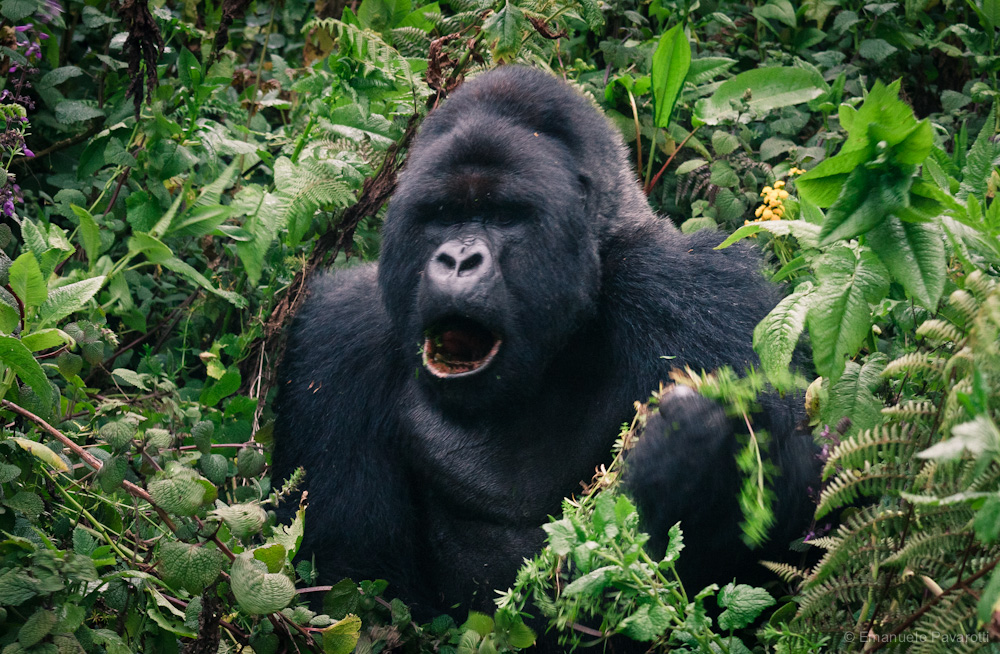 This will show you, what to do if a Gorilla charges on you. One has to be aware of thatGorillas are wildlife animals and despite the fact that they are 98% human DNA, . The gorilla families you will meet during this activity are habituated but that does not change the fact that they are wild animals.
It is on rare cases when a gorilla attacks a visitors during gorilla trekking in the forest. When you follow all the rules and the regulations for gorilla trekking given to you by the rangers of Uganda Wildlife Authority.
Mountain gorillas are very strong primates and the Silver back will do anything defend and protect his family from any cause of threat that can harm his family. Therefore, in case the gorilla charges, visitors taking part in these experiences will follow the instructions giving to them or listen to the instructions from your guide who will then direct you on what to do in order to safe guard you self.
These include the following;
Study the Gorilla Behavior
A gorilla may vocalize loudly and pound, jump or slap the group when angry. Gorillas that are curious will just grab and tag your clothes.
Stay Calm and lay low
When the gorilla charges, it's advisable to be calm down, keep quiet, and unthreatened you can even bend down to show respect and unwillingness to attack the gorillas. You can lower yourself down on the group making yourself smaller than the silverback. This is reason to show that you not a challenger and you don't mean any harm to them so it will cool down and will not attack you.
Be submissive
Gorillas do not like looking directly into their eyes, so try to look away. Pretend not to show any interest in them and mind your own work and a void direct contact with the gorillas it will walk away from you.
Groom
If by any chance a gorilla grabs your hand, do not remove it. Use your other hand to groom the gorilla. This may be difficult to implement but always remember that it is looking for signs that you are a threat. As the gorilla's grip relaxes, slowly move the grooming hand to the Gorilla's hand. This shows keen interest in any bits of leaf or dirt on the gorilla.
Move away slowly
After the gorilla has calmed down, move away from it slowly. You are advised to walk away from the gorilla taking, one step after the other without making any sudden movement. To create the distance between you and the gorilla.it will cool down and walk away from you. You can even fall down or keep relaxed or looking up at trees to show that you are defeated and you do not want to attack them.
Wait for help from the guides and rangers
Armed guides are always with you during Gorilla trekking. Incase all the above has failed, expect the rangers to protect you. These attempt to draw the attention of the gorilla from you to them. They don't wish to shoot an endangered gorilla. Incase everything fails they will shoot up in the sky to scare it away.
However proving that you are not a threat is all that a charging gorilla needs from you. You do this by remaining calm, quiet and submissive.