Hi,
Whether you were working remotely prior to the start of the pandemic or you transitioned to remote work because of COVID, chances are you're looking for ways to incorporate a little wellness and self-care into your daily routine.
I thought now would be a great time to offer tips on quick and easy ways to generate some remote work wellness, such as safely working out at the gym and practicing yoga and meditation. Can I offer some advice in an article for your website?
Thanks!
Eleanor
Eleanor Wyatt
I don't think my trip could have been better if it were not from Ganyana Safaris. The way I was looked after from the booking right through to the trip itself made me feel so valued. I was never left to handle any encounters alone unless I wanted to and the travel comfort made everything great.
Thoroughly recommend!
A. Edgar
We procured driver and car last minute from Ganyana to be able to make it to our destination which was Mount Sabyinyo. The driver was extremely careful, and the van was spacious and comfortable. Ganyana staff are always accommodating and kind. Will use their services again.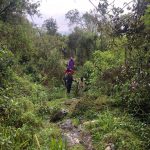 Hanife
We met with professional and flexible attitude at all levels including management, coordination, assistance and the tour itself.
Kizito assured us on everything, being patient despite asking service last minute.
The car was clean, seemingly well maintained (not like from our many other experiences from different providers), and the driver (Ibaada) was superb. He was polite, always on time, very professional, proactive and nice. He stayed patient and flexible. And most importantly he drove always safe in that crazy traffic.
We used this this company twice and upon our return we definitely will use them again for a full safari package. Very good value for your money.
Robert
I think more advertisement is still needed, people don't know what Uganda has when comes to tourist attractions.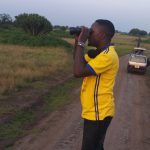 Prinz sadam
We used Ganyana safaris for a last minute trip to Jinja. The tour operator Juma has been very quick, responsive and professional in making our trip possible. Their vans are comfortable and well-serviced and well-priced. The company provides all types of adventures across Uganda. We sure will use their service and utilize their other packages again! Thank you Juma!
Hanife
A memorable trip due to the fact that we were well taken care of and the drivers made sure that we were safe and satisfied with each destination. I highly recommend.
Ardelle O
This was a trip to remember. The drivers Sam and Ibaada were the best drivers and best service providers. I recommend Ganyana Safaris to everyone out there.
Tendo Shaquille
They took care of everything while we sat back relaxed and had the best weekend of our lives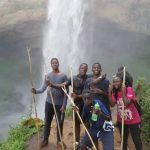 James Banturaki
Had a blast with you guys. The services offered are the best. The activities offered made the greatest experience. Thank you.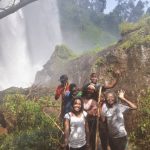 Vanessa and Kyle Thomas
It was top tier we really enjoyed the hiking and swimming and walking . The company was very mindful of our well being , we had hand sanitizer the whole trip . The company also helped take some wonderful photos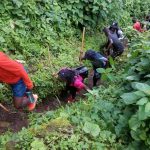 Suubi Byansi
We had too much fun out here…. nice vibes, clean and safe environment, top tier customer service and good food. If you're looking for a place to make memories with friends of family, this is the one. Breathtaking views as well.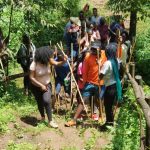 Tyra Koburunga
We had the most amazing 3 days at Sipi falls with your team. The service was absolutely wonderful, and always on time. Our drive Sam and our guide Philip went over and above to make both our journey and tour memorable. We will surely be back.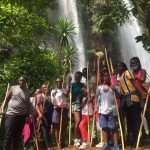 Olivia Kaggwa-Dunn
It was wonderful experience with my family in Uganda with a great customer service i have ever experienced in Uganda , we were a group of 6 paxs and we had a wonderful experience on our safari Carol and Cathy were very experienced tour consultants and helped us with everything we needed on our tour safari. The weather was very good, excellent service from Rodric the tour guard. Everything worked out perfectly from the pick up at the the airport to the last steps of the safari. I highly recommend Ganyana safaris if you are interested in enjoying safaris to the fullest.
Christine kalule
We really enjoyed the adventure can't wait to came back Thx to ms carol for your happy And nicely relating with us, mr sam the driver was also good thx too
Derrick
Hello
This is to appreciate your services rendered during our recent trip
The arrangements were fabulous.
Sam the driver and guide was very creative,friendly and full of courtesy
Thank you very much
Mr Namalfa
Mr Juma give us. My wife and me a gret time in Uganda. We been to Jinja to see the sources of the Nile and also the rapids. We had a lovely day… later on my wife had a horse trip all day…
So we can say… Mr Juma can make everything possible and make you holidays a real dream…
Also Uganda is a paradise, with all you need, good people, good culture and excellent organic food all the place…
Fantastic
Thank you Mr Juma…
Regards
Olivier G.
OLIVIER GEURDEN
We spent a half of day at Ngamba Island (Victoria Lake) in order to to get to know more about the chimpanzees sanctuary. And not only that, we had an opportunities to see monitor lizards and hundreds of birds. An experiance to be involved in chimpanzees feeding and talking to biologists were unique. Another sparkling moment was to have the rides on speed boat to reach the island in 45 minutes only. Thanking to Ganyana Safaris for well organised trip, this will stay highlighted as one of the best trips of our lives.
Goran Durovic
Mr Juma and his amazing team make this special country of Uganda a truly wonderful experience.
Organized, professional and caring staff insure a your stay will be nothing but memorable.
Gareth Algie
We had an incredible experience in beautiful Uganda. We loved it so much and can't wait to come back. And thank you for everything Mr. Juma! Excellent service and hospitality!
Huge regards and kisses from Ozcan's family
See you guys next year..
Ozcan
Ozgur Ozcan
It was our first time in Africa in June 2019 and we were a bit unsure of the unfolding events of our trip when we landed. My husband and I enjoyed the company of Fred the driver, he made us very comfortable with our new environment with the great stories he told about the people and culture of Uganda. beautiful beautiful Uganda. our 8 day trip went by so fast, we would love to come back to this great country. thank you Ganyana, Fred!
MadelineK
We had planned a trip to Uganda ourselves and thought everything was perfect until a few weeks towards our planned trip did we discover that so much had been done wrong. Ganya safari's consultant Carol managed to clean up the whole Itinerary within a very small window. we had a wonderful experience that we thank Carol so much for tolerating us throughout the whole 10 day journey. Thank you!
Sam Brooks