Gorilla Trekking in Uganda
Explore the jungles the mountain gorillas call home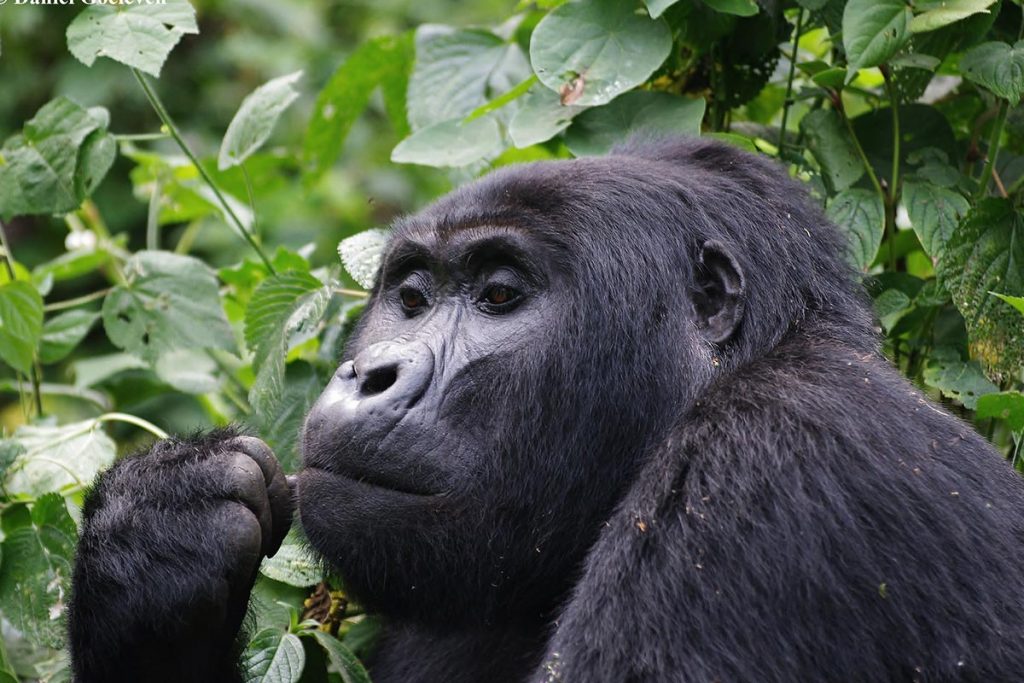 Gorilla Trekking
Explore the jungles the mountain gorillas call home as you you search for the famous gentle giants, with the silverback so protective if his family, the female gorillas feeding their offspring or just being their majestic selves and the baby gorillas playing and jumping from branch to branch as if putting up a show for you.
Gorilla trekking is a thrilling experience that beats all wildlife viewing experiences. Uganda is blessed to be a home of half of the remaining population of the world's mountain gorillas residing in the tropical rain forests of Bwindi impenetrable forest and Mgahinga Gorilla National Park.
With 21 gorilla families, 20 families in Bwindi Forest and 1 family in Mgahinga Gorilla National Park rendering Uganda a perfect place to see these gentle giants. The gorilla groups in Bwindi are scattered in the four sectors of the park, which are Buhoma in the north, Ruhija in the east, Nkuringo and Rushaga in the south. Gorilla Trekking is an adrenaline experience worth every minute in the jungle, Bwindi Impenetrable Forest National Park and Mgahinga Gorilla National Park will give you the ultimate feel of a gorilla trekking experience. Mountain gorillas are sheltered within the Virunga massif and also found in two more countries; Volcanoes National Park in Rwanda and Virunga National Park in Democratic Republic of Congo.
Gorilla Habituation Experience
Uganda is the only place that offers memorable the gorilla habituation experience. The Rushaga sector in Bwindi Impenetrable National Park has some gorilla families that have been put aside for this amazing adventure.
Here wild gorillas are trained and tamed to get used to people around before they are claimed ready for trekking. Currently, 2 gorilla families of Bushaho and Bikingi are under habituation experience, on this 4 hour interaction with gorillas the  travelers gain extensive knowledge about gorillas and their human like characters. Travelers are accompanied by Park rangers, conservationists and researchers who together.
Gorilla Families in Uganda
Mountain Gorillas in Uganda are found in Bwindi Forest and Mgahinga Park and they can be tracked on every day of the year depending on your travel time and availability of the gorilla trekking permits. Bwindi Impenetrable National Park has four sectors that can be tracked and they include:
Buhoma Sector
Buhoma is in the northern part of Bwindi and has 5 Gorilla groups including:
Rushegura  Family – 19 Individuals with 1 Silverback, headed by Kabukonjo

Habinyanja Family – 17 Individuals with 2 silverbacks, headed by Makara

Mubare Family – 9 Individuals with 1 silverback, headed by Kanyonyi

Katwe Family – 7 Individuals with 1 silverback ( Newer group in Buhoma sector)
Nkuringo Sector
Nkuringo is in the southern part of Bwindi has now 3 Gorilla groups including
Nkuringo Family  – 11 individuals with 1 silverback, now headed by Rwamutwe after the death of Rafiki

Bushaho Family – 8 individuals with 1 silverback, headed by Bahati

Christmas Family – 9 individuals with 1 silver back, headed by Christmas. ( newest group in Nkuringo sector)
Ruhija Sector
Ruhija is in the eastern part of Bwindi and can also be accessed from Buhoma, they are 4 Gorilla families here including:
Mukiza Family – 10 individuals with 1 silverback, headed by Mukiza

Bitukura Family – 14 individuals with 4 Silverbacks, headed by Ndahura

Oruzogo Family – 17 individuals with 2 silverbacks, headed by Bakwate

Kyaguriro Family – 10 individuals with 2 silverbacks, headed by Rukara
Nyakagezi Gorilla Family
This is the only habituated group in Mghahiga Gorilla National Park with 10 individuals,headed by a dominant silver back called Mark.
Rushaga Sector
Rushaga is in the southern part of Bwindi and can also be accessed from Nkuringo and has 9 Gorilla families including
Nshongi – 10 Individuals with 1 silverback. It was once the largest group in Bwindi with 36 individuals

Mishaya- 10 individuals with 1 silverback

Bweza- 12 individuals with 2 silverbacks

Kahungye – 17 individuals with 3 silverbacks, headed by Rumanzi

Bikingi- 15 individuals with 1 silver back, unfortunately leadership has not be confirmed yet because its still undergoing in Habituation process.
Busingye- 9 individuals with 1 silverback, headed by Busingye
Kutu- 8 individuals with 1 silverback, still undergoing habituation. ( New group in Rushga sector)
Mucungunzi- 8 individuals with 1  silverback, headed by Mucunguzi. ( New group in Rushaga sector)
Rwigi-8 individuals with 1 silverback, headed by Rwigi and was officially opened by UWA for trekking
Rules and Regulations of Gorilla Trekking in Uganda
Gorilla Trekking comes along with some mandatory rules to follow while in the company of the gorillas and before encountering the gorillas to ensure their conservation of these endangered species and they include:
A maximum number of 8 visitors may visit a family of habituated gorillas in a day and 4 visitors for the Gorilla Habituation experience.

Always wash your hands before you head out to see the gorillas.

Do not leave rubbish in the park.

Always keep your voices low.

While with the gorillas keep a minimum distance of 7 meters from the gorillas.

Do not eat or drink while you are near the gorillas.

Sometimes the gorillas charge, follow the guide's example by crouching down slowly, and do not look at the gorillas in the eyes. Wait for the gorilla to pass you by and do not attempt to run away

Flash photography is not permitted

Do not touch the gorillas, they are still wild animals.

The maximum time visitors are allowed to spend with the gorillas is one hour.

Each group of participants is accompanied by a ranger guide and a military guide for protection.
Why you should trek mountain gorillas in Uganda?
Viewing mountain gorillas in the jungle is an incredible experience and a focus for most travelers on a Uganda Safari. Mountain gorillas inhabit forests high in the mountainous regions of central Africa with their small population split just over half living in the Virunga Mountains, bordering Uganda, Rwanda and the Democratic Republic of the Congo, and the remainder in the Bwindi Impenetrable National Park in Uganda.
With the high cost of gorilla tours to Rwanda, Uganda is now a priority for thousands of travelers from all over the world to experience this face-to-face encounter with the critically endangered mountain gorillas in their natural habitats.
Uganda gorilla tours take you deep into the tropical rain forests of Bwindi impenetrable forest and Mgahinga gorilla national park in southwestern Uganda.
Gorilla trekking in Bwindi Impenetrable can take up to 8 hours with an one hour once you encounter the gorillas. The most exhilarating part of a gorilla safari is the time spent in the rainforest as you search for a gorilla family, follow ancient trails and discover the history of a people within the forest.
The gorillas move to a new location in the forest every day, so as you trek along the forest trails your guide's job is to pick up from where they were the day before and try to find them again.
How to attain a Gorilla Trekking Permit in Uganda
With only 8 people allowed per gorilla family, over 88 people travel into Bwindi to see gorillas on a daily. We strongly recommend you to book your gorilla permit with a safari agent, the most prominent mistake being booking a gorilla family which is far away from your choice of accommodation.
Gorilla permits in Uganda cost USD 700 offering an individual an one hour with the mountain gorillas in a group of 8 people while the Gorilla Habituation Experience costing USD 1500 offering an individual 4 hours during the habituation process of a gorilla a group and in Rwanda at USD 1500 per person while in D.R.Congo it is at USD 400 per person.
The reason that the permits are so costly is because each park only issues 10 permits per gorilla family per day, to ensure that the gorillas' exposure to humans is limited. The proceeds from the permit cost is used by the government to help finance patrols that are instrumental in protecting these apes from poachers and for responsible tourism for the community
On our Gorilla Trekking safaris, the trek starts in the early morning and after formalities of briefing, you are transferred to a ranger's station where the trek commences. Your rangers will lead you through cultivated lands, then into dense rainforest and as close as is allowed to a gorilla family.
The rangers monitor the gorillas on a daily basis and have a fairly good idea of where they are. However, they are free roaming animals, and their sighting cannot be guaranteed.