Game Drives in Uganda
Driving through the Savannah Parks in the comfort of your car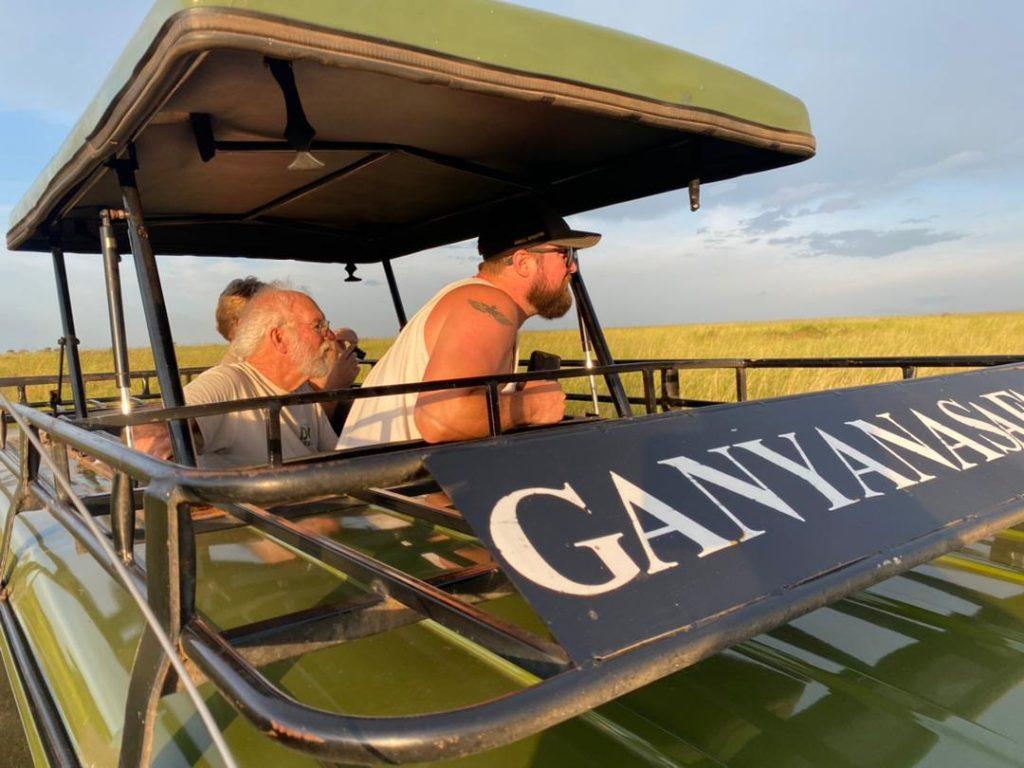 Wildlife Viewing Game Drives
Game drives are  one of the highlights of any Uganda safari and are most rewarding in the early mornings and late evenings of the day. So a game drive basically means driving with a safari vehicle in national parks and wildlife reserves searching for the big game. Safari Game drives involve going into the savannah plains of the national parks with a four WD vehicle with every game drive lasting from 2-3 hours to a full day's excursion and sometimes wrapped up with a bush breakfast.
A Game drive safari can be combined with other safari activities like Gorilla tracking, Gorilla Habituation Experience, Chimpanzee trekking and habituation, mountaineering, nature walks and bird watching safaris that are all possible on your tour in Uganda.
Game drives normally start early in the morning at around 6 a.m. since this is when animals are most active, you will go on two game drives per day while on safari where you will spot lions and hyenas hunting, vultures feeding on leftovers of predators, watch elephants, giraffes, and lots of antelopes that include the Uganda Kobs among others.
Morning game drives start at 7am and evening game drives start at 4pm alongside an UWA ranger guide to accompany you into wildlife viewing of the tree climbing lions, the warthogs, elephants, giraffes, buffalo herds, ostriches, hyenas, zebras and birds.
Where to go for a Game drive in Uganda
This activity is available in the Savannah parks and National Parks in Uganda, for the best safari game drives in Uganda below are some of the national parks and wildlife reserves where a traveller can go for safari game drives.
Queen Elizabeth National Park.
Home to about 98 mammals offering great classic game drives on a Uganda Safari. The park has well developed game drive tracks through the Kasenyi area and North Kazinga plains and Ishasha sector making game viewing possible and successful.
Murchison Falls National Park
The largest national park in Uganda and offering great game drive experiences on well maintained game drive tracks, with Buligi track in the northern bank of River Nile. Morning, afternoon and nocturnal game drives are available. Close by is Budongo Forest for chimpanzee tracking and Ziwa rhino sanctuary.
Lake Mburo National Park
The smallest savannah game park in Uganda and only one with an entire lake within its borders. Safari game tracks through acacia woodland, wetlands, rocks, grassy areas with short game drives to cover the entire park. Enjoy night game drives, horseback safaris, walking safaris, water safaris and bird watching experiences.
Kidepo Valley National Park
A semi-desert national park located in the far North Eastern part of Uganda.The park has a  beautiful endless scenery, African sunrises and sunsets, largest prides of lions and countless herds of African Cape Buffaloes. Game drives take place around the Narus Valley.
Why you should conduct a Game drive on a Uganda Safari?
A classic Game drive in Uganda provides extensive Savanna Grassland Views, the beautiful morning sunrise on a morning Game drive and in the evening and night game drives nature serves more beauty of the sunset.

During a Game drive, you get chance of coming up close to the animals on a free lance movement while in the park in your slow moving vehicle.

Guided around by a ranger guide, you will learn about the different animals in their free nature all hear the calls of the singing birds.

Learn about wild animals and their way of life from the professional guide that will accompany you to the park

Enjoy views of the "Big 5" including the Elephant, Lion, Leopard, African Cape Buffalo, Rhino, and the other big animals including Giraffe, Chimpanzee and Mountain gorilla
Nocturnal Game Drive in Uganda
With over 10 National Parks. Uganda offers various options of night game drive safaris, this is an activity that can be added to your gorilla trekking adventure safari and other Uganda wildlife safaris. In Uganda, one can go for night game drives in some of the National parks, with your safari guide and a ranger guide from Uganda Wildlife Authority with use of a spotlight to spot the different animals.
Night game drives offer a whole new experience to a Uganda safari and allows travellers to experience the mysteries of the real Ugandan bush after dark. Travelers will get a chance to see the nocturnal life such as porcupines, mongoose, leopards and other animals that love the dark.
What you should know before going for a Night Game drive
Before conducting a nocturnal game drive, you should note that off road driving during night and morning game drives is not allowed inside all national parks to prevent vehicle damage to the environment.
Night game drives offer a great opportunity to spot nocturnal animals that include bush babies, genet cats, mongoose, aardvarks, and owls among others
Bring sandbags to steady camera and a good binocular for easy sightings
Always wear a sunscreen and an insect repellent while on a game drive
If you go on a game drive, make sure you carry your sunglasses and a hat. In case you come back after dark, don't forget to take something warm to wear.
When you go for a bush toilet, make sure to ask your guide to accompany you. Safari vehicles used for safari game drives
Games drives at Ganyana Safaris are usually guided and conducted in Four wheel Drive customized safari vehicles with a pop up roof that makes it easy for wildlife viewing carrying a maximum of 7 people.