Golden Monkey Trekking
Sight some of the delightful and rare primates in the Jungle.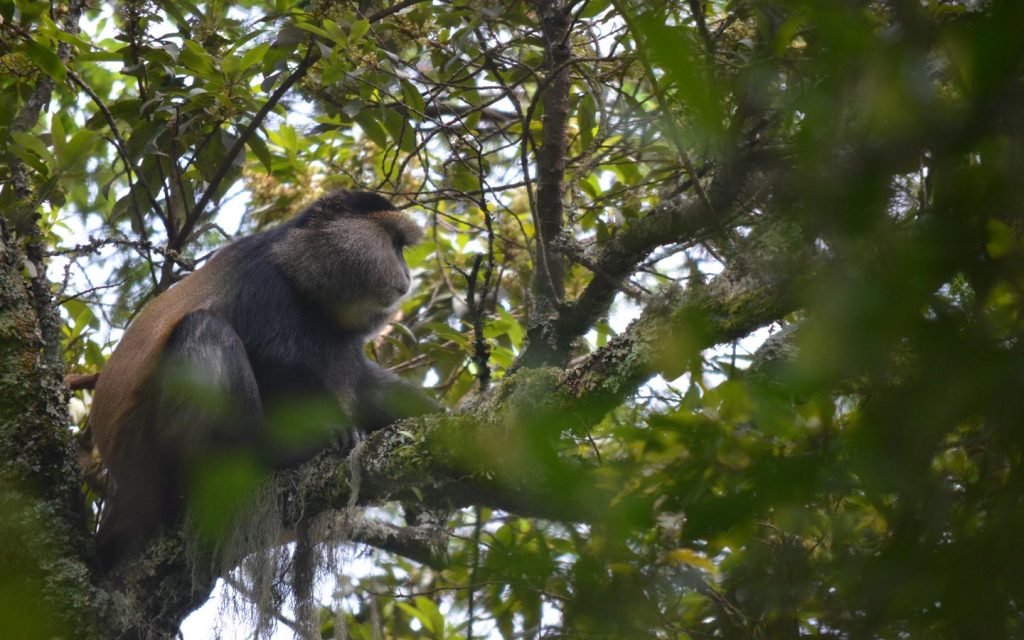 Golden Monkey Trekking in Uganda
Golden Monkeys are small yet very beautiful animals with a prominent golden fur coat which adds to their unique attractiveness giving an exceptional sight to the viewer and photography. The endangered species are very active creatures compared to the mountain gorillas as they keep jumping from tree to tree which is really interesting and a little difficult to picture. Golden Moneky trekking is one of the most sought after activity in mgahinga national park.
Golden Monkeys are found only in the Virunga Volcanoes which in Mgahinga Gorilla Park in the Southwest Corner of the Uganda and in Volcanoes National park in Rwanda which are also home to the famous Mountain Gorillas. These beautiful primates live in the bamboo vegetation towards the base of the volcanoes and habituation has helped them to overcome their initial shyness to accept their daily visit by researchers and tourists.
Monkey Trekking is worth going for while in Mgahinga Gorilla National Park and in Volcanoes National Park as you watch these delightful and rare primates playful jump from tree to tree with Uganda's Mgahinga Gorilla National Park being a habitat to most Golden Monkeys open for tourism.
Frequently Asked Questions about Golden Monkey Trekking
Golden Monkeys live in the Virunga Massif in 3 Countries, Uganda, Rwanda and the Democratic Republic of Congo with  about 5000 remaining in the Virunga Volcano Chain and the largest concentration of them in Mgahinga Gorilla Park or Rwanda's Volcanoes National Park, Virunga National Park in D.R.Congo.
Golden Monkey Trekking permits can be booked in advance or on ground since there is no limit on the people to trek them with an age limit of 12 years.
What time does Golden Monkey Trekking start?
Golden monkey trekking in Volcanoes National Park begins at 7:00 am just like gorilla trekking and in Uganda, it starts at 8:00 am though one is supposed to be at the park headquarters for briefing about the dos and don'ts while with golden monkeys.
How long does one stay with Golden Monkeys?
Just like gorilla trekking, monkey trekking is a one hour activity and nce you have found the golden monkeys, you will be allowed just one hour to observe their behavior, take photographs.
What is the maximum number of people to trek a golden monkey family?
A group of golden monkeys can be trekked by as many people as present on a given trekking day unlike gorilla trekking that requires a maximum of 8 people per gorilla family, there is no limitation on the number of people for a given golden monkey family.
Where to book golden monkey permits?
Just like Gorilla Trekking permits, Golden Monkey Trekking permits in Mgahinga National Park are booked through Uganda Wildlife Authority though golden monkey permits may be booked on ground since there is no minimum numbers required.
What is required to book a golden monkey permit?
All you require is to identify yourself either at the park headquarter, pay the fee required for your permit a. You can also opt for the  safer option of booking for the permit in advance by paying at Uganda Wildlife Authority Park headquarters in Kampala.
At Ganyana Safaris we share our clients dream by ensuring a memorable experience on their safari in Uganda.