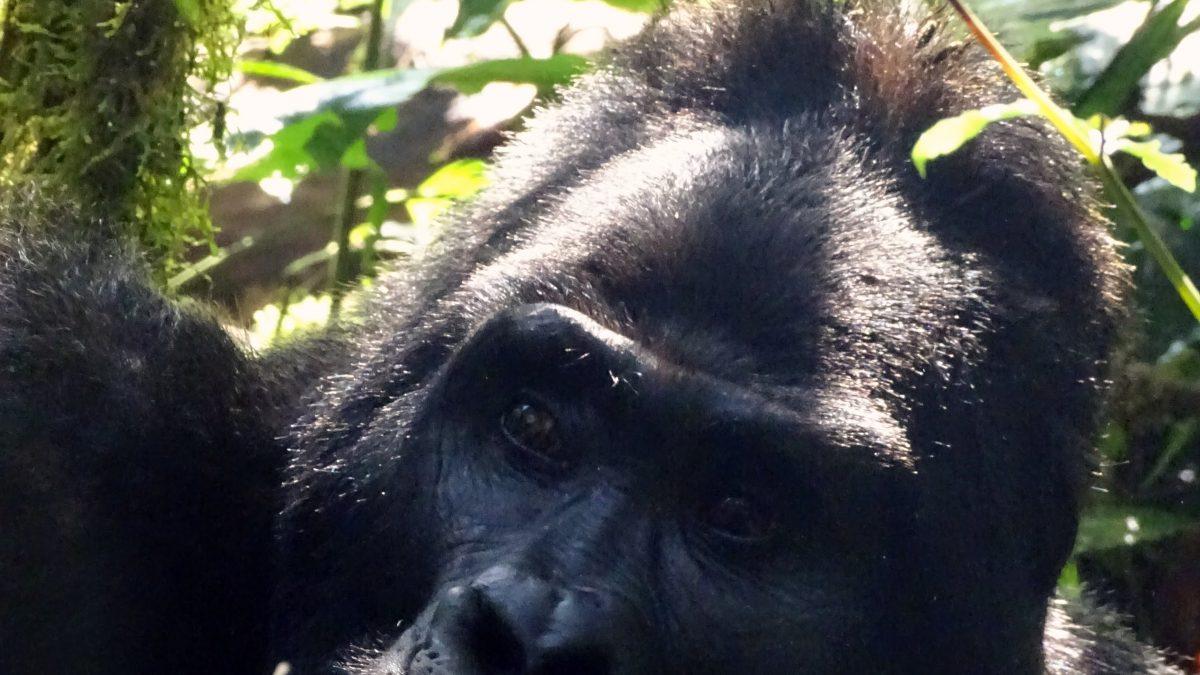 Gorillas Parks most renowned for trekking are Bwindi Impenetrable National Park and Mgahinga Gorilla Park. Uganda is a land locked country in East Africa. It is blessed with a diverse land scape with abundant wildlife with chimpanzees and gorillas.
Seeing gorillas say our closest cousins in Uganda is an interesting activity that is worthy carrying out while in Uganda. You will know how these gentle giant primates survive in the wild. Kindly note; Gorillas are only trekked in two spots in Uganda that is Bwindi impenetrable National Park and Mgahinga Gorilla Park.
Location of Bwindi Impenetrable National Park
Bwindi impenetrable National Park is located in south-western Uganda. It is covering 32,000 ha and is one of the largest areas in East Africa with dense tropical forests. Bwindi is a remote sanctuary for Gorilla trekking and a home to almost half of the world's mountain gorillas. it is also a biodiversity hotspot with the greatest number of tree species, birds and butterflies.
On arrival at Entebbe International Airport; tourists are always picked by a tour guide to a hotel or to Bwindi impenetrable national park. However, it depends on the tourist's decision to spend a night in at the hotel, after a long flight or drive to Bwindi impenetrable national park. I would recommend a tourist to spend a night at the hotel for relaxation. Then early in the morning set off for a scenic drive to Bwindi Impenetrable National Park.
There are two ways a tourist can get to Bwindi impenetrable National Park and this is either by air travel or by road. However, to make your trip or safari more interesting I would recommend road transport to Bwindi Impenetrable National Park this is because by using road transport  a tourist will enjoy a scenic drive and a diverse landscape  and mountain forests.
Location of Mgahinga Gorilla Park
Mgahinga National Park is located on the border between Rwanda and Uganda. It is part of the larger ecosystem the Virunga conservation Area (434sq km). It also includes two adjacent parks in Rwanda and Congo.
This park sits high in the clouds at the altitude of between 2,227m and 4,127m. The park offers a soothing aura of majesty with cool temperatures owing to the mountainous nature of the park. It is also a home of almost 300 mountain gorillas located in the Virunga massif. It is indeed where gold meets silver where gorillas are a house with same habitat of the golden monkeys.
Mgahinga park can be accessed by road 510km from Kampala and the commonly used route passes through kabale and Kisoro and another way is by air travel using the daily flights from Entebbe international Airport.
In Uganda, there are only two spots to trek the mountain gorillas and that is Mgahinga Gorilla Park and Bwindi Impenetrable National Park. They can be accessed by road transport or Air travel. However, tourist should note that besides mountain gorillas there also other activities in these national parks. Which include; community walks, Hiking, birding and for tourists to understand more, we recommend you to visit the parks and explore more.