The reason Ugandans are more accustomed to fresh foods than refrigerated foods
Mother Nature has been kind to this country from the ancient days to present day. Uganda is blessed with red fertile soils and a friendly climate good enough for farming. Despite several effects posed by climate changes, numerous Ugandan farmers are still able to provide Ugandan Markets with fresh food for the citizens to consume.
Ugandan markets are a collection point for many varieties of food from several districts around the country. Uganda being a welcoming country for different natives, different foods match different classes of people and so do the Ugandan markets. There's so much to see and learn so only a walk tour can be taken by one in order to benefit.
Kampala Ugandan Markets.
The reason Ugandans are more accustomed to fresh foods than refrigerated / preserved foods unless its one's culture. The main fresh food markets located within the center are Nakasero, Kalelwe, Nakawa ,Owino and many more markets.
Nakesero market.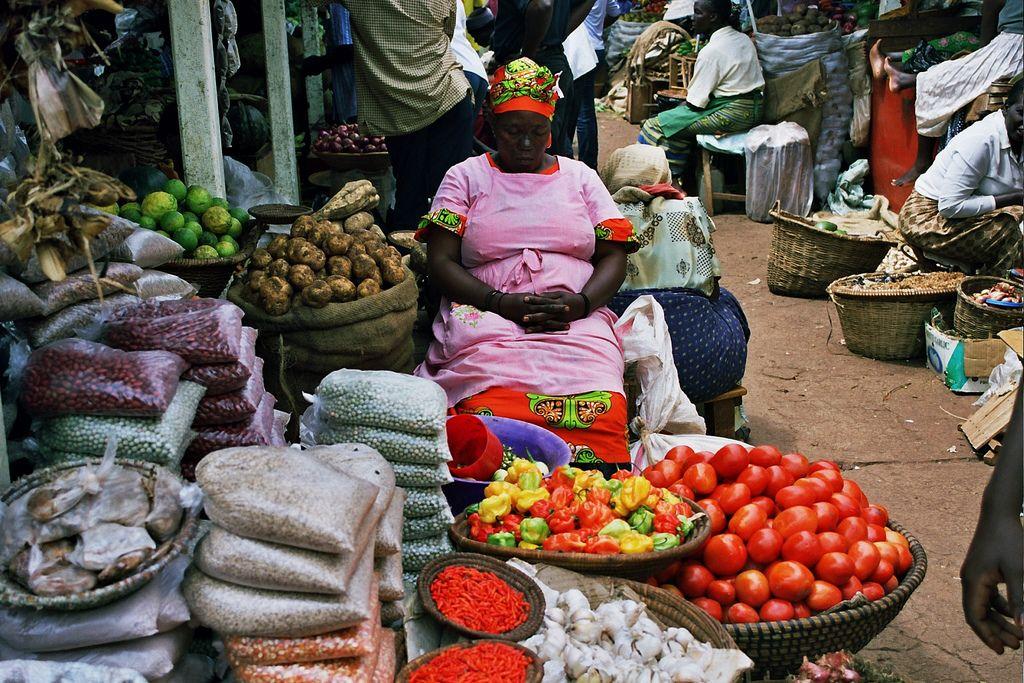 A place for Fresh food and fruits Located at the heart beat of Kampala city. Nakasero Market Gates open as early as 4am for farmers supplying foods and restaurant owners making daily purchases. Cars hardly find a way through the market so only one's feet can help save time always. The fresh aromas from the foods welcome customers with each signaling the nose on which direction to take for a specific food type. Nakasero Market is not only a selling point for local foods but also for Indian foods and spices. This is also one market that never runs out of stock for the Ugandans' delicacy, the grasshoppers.
Kalerwe Market.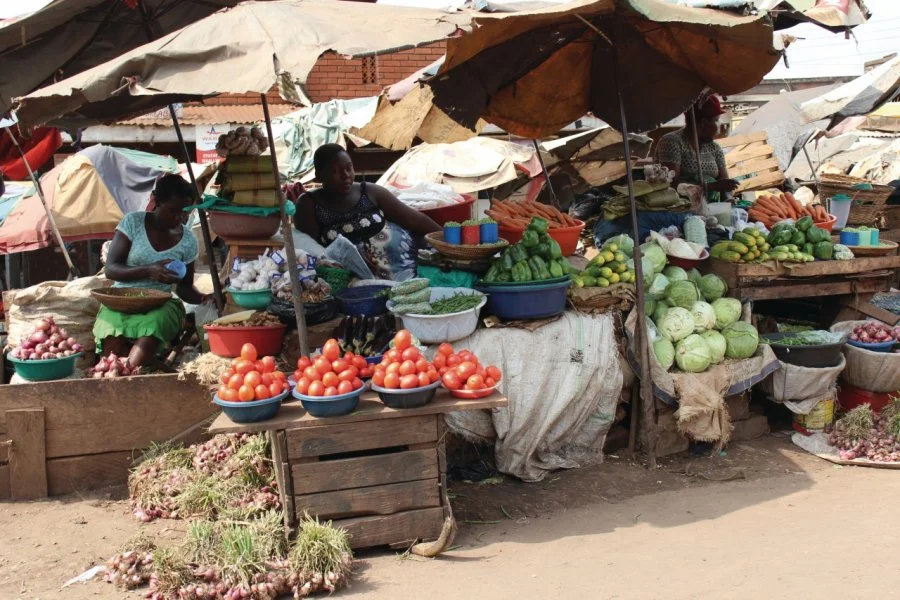 Located about 5 km from Kampala city adjacent to the Northern by pass. Just like Nakasero market, kalerwe has several food types too. In addition to food, this market has an abattoir (Slaughter house) which is one of the reason it's always crowded and having Jam around it. It is close to suburbs so pedestrians from close suburbs find it accessible and affordable for family shopping.
Owino / St. Balikudembbe Market.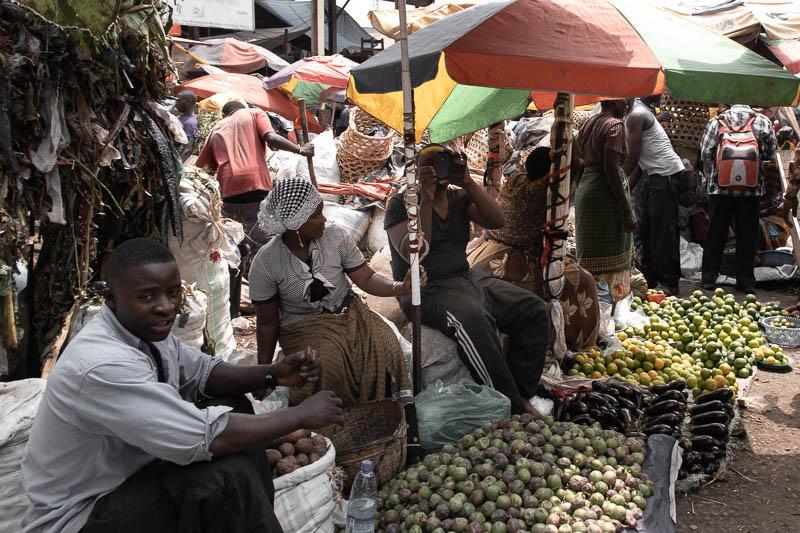 Kampala's Oldest, once largest and most famous market. It's located at the lower side of the city commonly known as down town. Owino market is a big market with several gates at different sides. It contributes a huge percentage of taxes to the county's taxes because of the many vendors that occupy it. It is a busy world that attracts big numbers of customers because it sells a lot of Items besides food.
Similarly to the other markets, Owino market is under the management of Kampala City Council. Vendor allocation is done according to different actives being;
Clothes and shoes selling plus beddings,
Grain milling, Fresh / dried herbs and spices,
different salts, used electronic items,
Sewing machine operators,
Butchers,
Agriculture items and
Mini restaurants that are slowly being ruled out because of the previous fire out breaks that have claimed vendors' commodities.
The market being a money generating place for many, many Saccos operate within that accommodate different groups of people like Women, men, teenagers, the elderly and those combining all these classes. Different banks like Centenary, Diamond trust also operate on the different buildings located around the Market.
The market has St Balikudembbe Church Located within it. This catholic Holy place named after a Ugandan Martyr always has serious prayer sessions throughout the week. Other believer visit different worship places located on the malls around the Market.
Owino is a busy world.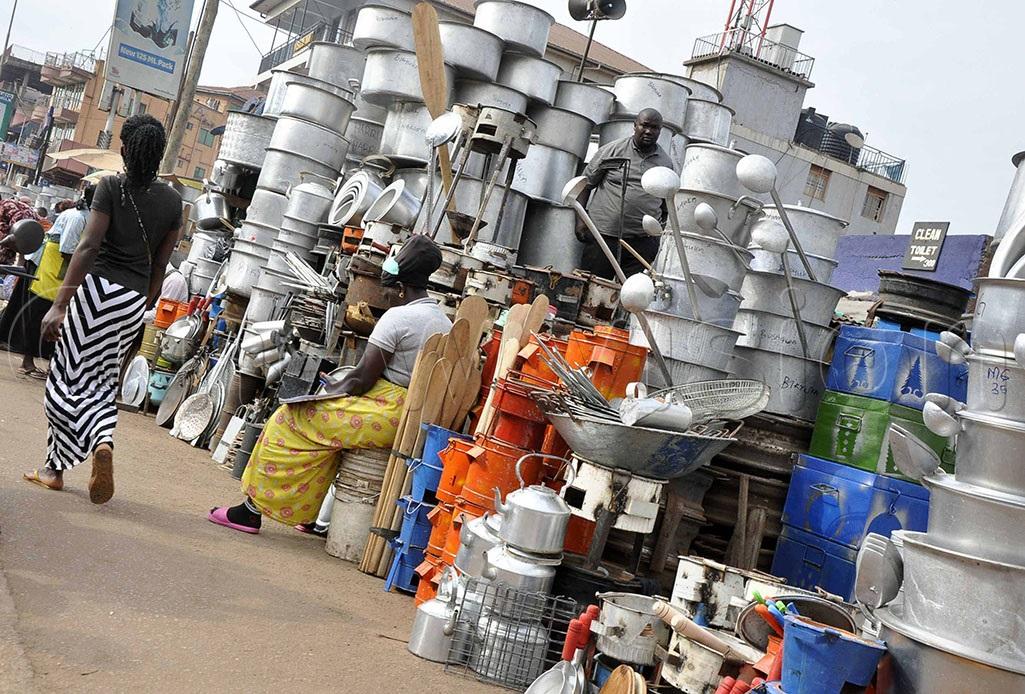 It has about 5 Tax parks located around it to make traders' and customer transportation means easy. Offloading and loading of commodities never stops at the back side of this market which is Kafumbe Mukasa Road. A lot of welding and milling takes place on this side (Kisenyi) that also has Bus and tax parks aligned together with different malls which operate simultaneously with the market.
The front side of Owino Market is a location for the Old tax park, some malls and Container's village that sells all agricultural items.
Unlike other markets within Kampala, Owino Market has several road that lead to and way from it. These include Kafumbe Mukasa, Namirembe, Nakivubo road and other more.
On the left side of the market is the new tax park, Kikuubo and the famous min price. While on the right is Usafi market, Nakivubo Blue primary and the Kampala clock tower.
A city walk tour with in Kampala is not limited to only the markets above because the city has many more markets located in the nearby suburbs. These include, Nakawa, Wandegeya, Ntinda, Busega which is best known for fish and many other more. All markets in the suburbs have specials days on which vendors from different market visit them. For example Entebbe market welcomes these mobile vendors on Tuesday, Luzira welcomes them on Wednesday and other markets do the same on different days.
The newly constructed district Ugandan markets and roads have improved collaborations between farmers and vendors. These too have eased the access of good foods like fresh fish sold in roadside markets to long distance travelers. Take a walk tour around Kamapal Markets and whitness ugandans' source of health and wealth.